A residential plumbing issue can put a major halt on your daily activities. Not only does a plumbing problem affect your water and bathroom plumbing, but it can also affect your water heater. Keep all of your amenities running smoothly with the help of an expert plumber from KICKD Plumbing.
As your friendly neighborhood plumbers near Fayetteville, GA, we can provide you with reliable plumbing service at an affordable price. No matter the size or complexity of your plumbing installation or repair, our team has the capabilities to meet all of your needs with ease.

RELIABLE PLUMBING SERVICES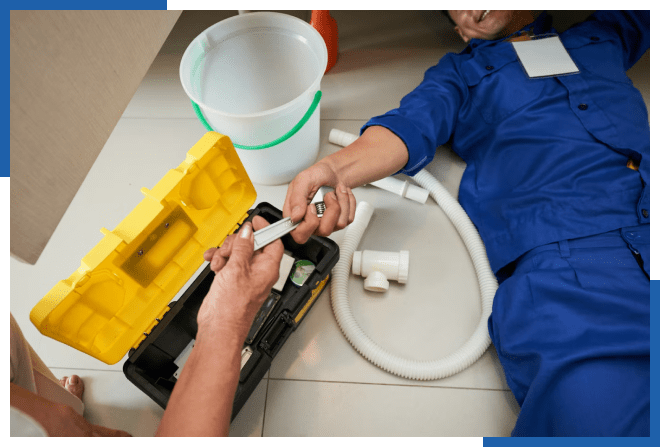 KICKD Plumbing is ready to handle every aspect of your plumbing repair or installation service. We specialize in residential plumbing services, including water heater repair, regular plumbing maintenance, and even kitchen or bathroom remodeling projects. Our team is committed to your satisfaction and can provide you with a stress-free plumbing experience.
We understand that when a repair becomes necessary, the time and energy it will take to hire a plumber can feel overwhelming. That's why we pride ourselves on our thorough and fast work — we'll help your home run as smoothly as ever. As a small, family-owned and -operated business, we ensure that each of our customers is treated like a member of our own family.
With KICKD Plumbing, you can have the assurance that you'll receive great results with a friendly, small-business feel that you can rely on. We make ourselves available to answer all of your questions, so when you reach out to us, you can know you're speaking with one of the professionals.
We can accommodate and personalize your service to meet the needs of your home and budget. With our team, you can rest assured that no corners will ever be cut, and you can rely on our services to last for years to come.

FRIENDLY PLUMBING EXPERTS


To schedule your plumbing service and ask any questions about how our plumbers can help keep your plumbing system running smoothly, give us a call at (770) 468-7912.